Ayurvedic Herbal Manufacturing And Its Scope herbal manufacturing has seenAyurvedic a surge in the business since the pandemic has hit worldwide. Nowadays, people prefer to go back to their roots and utilize what nature offers infused with technology to enhance their immunity. Indian pharmaceutical market is one of the largest import-export pharma worldwide. The Indian Ayurveda market is estimated to reach INR 710.87 billion by 2024, with a compound annual growth rate of 16.06%. If you are wondering to indulge your assets in the Ayurvedic Pharma business, then it is time for you to take action. With the numerous opportunities unravelling and the increasing demand for ayurvedic products in the market, it has become one of the most lucrative businesses in today's time. Ayurveda is an ancient science that holds value to this date and will continue to do so in the years to come.
Ayurvedic products are known to have no side effects, which becomes the reason consumers demand them more.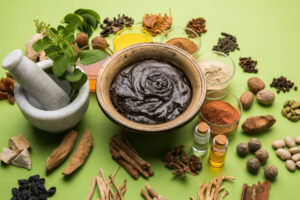 Scope for ayurvedic herbal manufacturing
The consumers have faith in the history and culture that has blessed the world with the divine and holistic knowledge of Ayurveda. Ayurvedic products are known to have no side effects, which becomes the reason consumers demand them more. There is an increasing number of franchise owners who wish to indulge in the ayurvedic Pharma franchise business. As per the World health organization, around 80% of the population in countries like India and Africa still depends on the traditional form of medication. Since the introduction of herbal products in the market, their demand has increased. New paths have opened for the new business in the pharma franchise business.
Demand for ayurvedic PCD franchise business
Over time, there has been an increasing demand for the PCD franchise business, be it ayurvedic or allopathic. The number of people leaning towards organic products in the industry has shown linear growth. It is not just the pharmaceutical industry but also the other industries where people have shown a keen interest in organic products.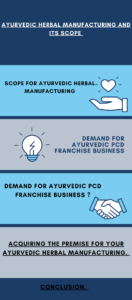 Expanding medical tourism across the globe
Firstly, India is known as the land of Ayurveda. The world knows us as the leading pharmaceutical manufacturers and the epitome of Ayurvedic and herbal manufacturing worldwide. The need for Indian ayurvedic products is more reliable for the consumers.
Rising consumer awareness about Ayurvedic Products
Secondly, the rising consumer awareness because of education and exposure to the internet has given Ayurveda. All of this has provided Ayurveda with the stage needed to outshine other forms of medications and products
How to start an Ayurvedic Manufacturing Company?
If you are thinking of starting a business in ayurvedic and herbal manufacturing, then there are some things you must keep in mind. What are the certifications you need?
Acquiring the premise for your Ayurvedic Herbal Manufacturing.
When you indulge in the manufacturing business, a premise for your business is one of the first things you need. You can either rent or buy a place as per your needs and budget.
Select a name for your manufacturing business
Choosing a name for your business is one of the vital things you must do. A brand name must represent your business and its values so people can relate and trust it easily. So, selecting the right name for your business is key to winning your consumer's trust, and you must do it thoughtfully.
Apply for the needed approvals and certifications.
As an ayurvedic herbal manufacturer, you must apply for certifications and approvals. Having certifications and approvals in this business gives you credibility and gets you, customers, easily. In addition, you might need to spend lesser on marketing your products. When your consumers know you have the government approvals, it becomes easier.
Market and sell your products.
Once you have fulfilled the needed requirements you can start with the manufacturing process. Further, after the manufacturing of your ayurvedic and herbal products, you can market and sell those products. Further, you should know how to market your products well.
Conclusion.
To conclude, Indian Herbo pharma is one of the leading Ayurvedic herbal manufacturing companies in Ludhiana, Punjab, India. We provide our PCD pharma franchise owners with the best products and packaging for their businesses. Contact us for more information if you are looking to start a PDC franchise or an Ayurvedic PCD business.